A material-led exploration into the kinetic potential of nylon monofilament
Doctoral research 2015 – 2019
Royal College of Art, London | ArcInTexETN – Marie Skłodowska-Curie Actions
Abstract
Movement has the power to manifest different tones or qualities through patterns or rhythms of variation in its elements, such as trajectory, speed, acceleration and duration. Studies in the field of robotics suggest that movement has the potential to elicit a response in people, regardless of the formal configuration through which it is manifested, pointing to the opportunities that endowing artefacts and surfaces in interior spaces with an inherent capacity to move may bring to the conception and implementation of experiences.

Building on the discovery of heat-responsive, twisted and coiled polymeric actuators in the field of material science (Haines et al., 2014), and inspired by the expressiveness with which movement endows inanimate things, this practice-based, material-led research aims to expand the range of kinetic behaviours provided by flexible materials available to the field of textiles.

The research employs "bricolage" as its methodological framework, deploying making – as a way of gaining understanding – as its main exploratory component. Understanding of the kinetic potential of the monofilament arises in the interplay between an intuitive, improvisatory and open-ended exploratory modality and a structured, targeted and planned one.

Contemporary neo-materialist discourses, through their conceptualisation of matter as the possessor of intrinsic morphogenetic resources, motivate and underpin the creative manipulation of the material, foregrounding its active role in the outcomes of practice.



The research offers a framework for the conception and exploration of the heat-responsive kinetic potential of nylon monofilament, articulated through a strategy of sequential combination of monofilament transformations, rendering morphologies with kinetic capacity not previously revealed, and a principle for the activation of these morphologies, enabling them to display changes in shape beyond linear ones.

A new transformation technique is found through the work, the reshaping of coils, producing morphological structures with kinetic capacity. The work provides an initial stage of formalisation of morphology-formation processes, supporting future research on these morphologies and their design potential.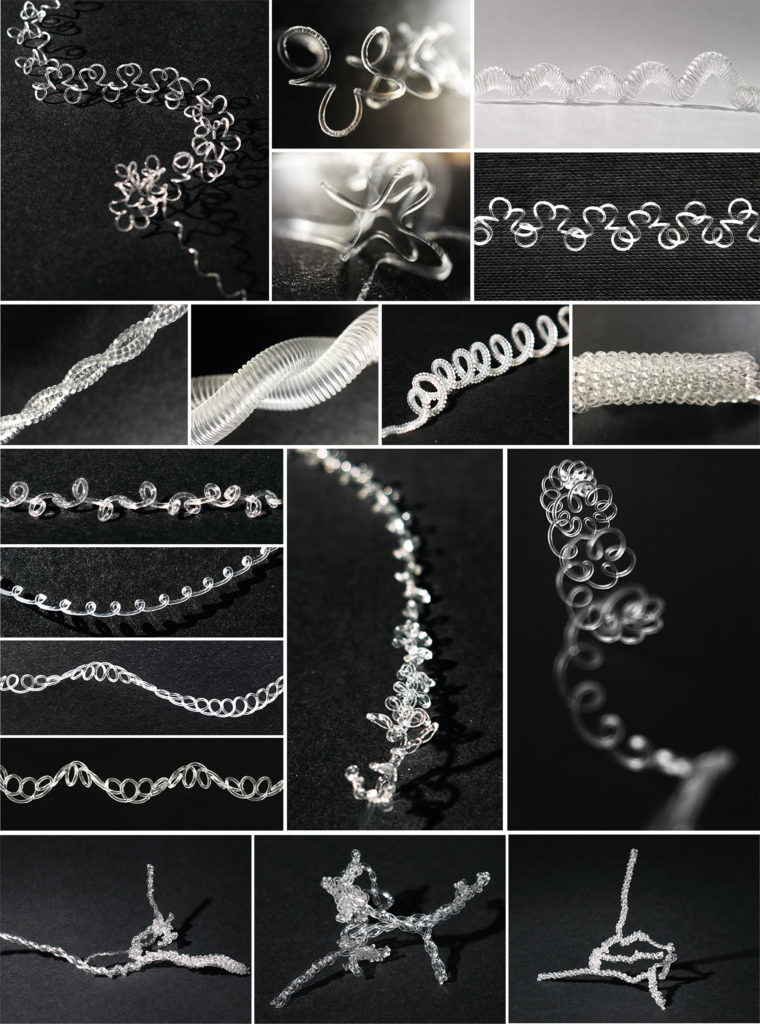 Envisioning kinetic morphologies as active components of flexible material systems, approaches to the assembly of kinetic modules into textile-inspired structures are suggested. Kinetic monofilament assemblies may eventually become part of responsive and adaptive systems populating interior spaces and modulating how these are experienced.
Examples of heat-responsive behaviours of filament morphologies
* All videos are in real speed

[ ACTIVATION: HOT PLATE ]
[ ACTIVATION: HOT WATER ]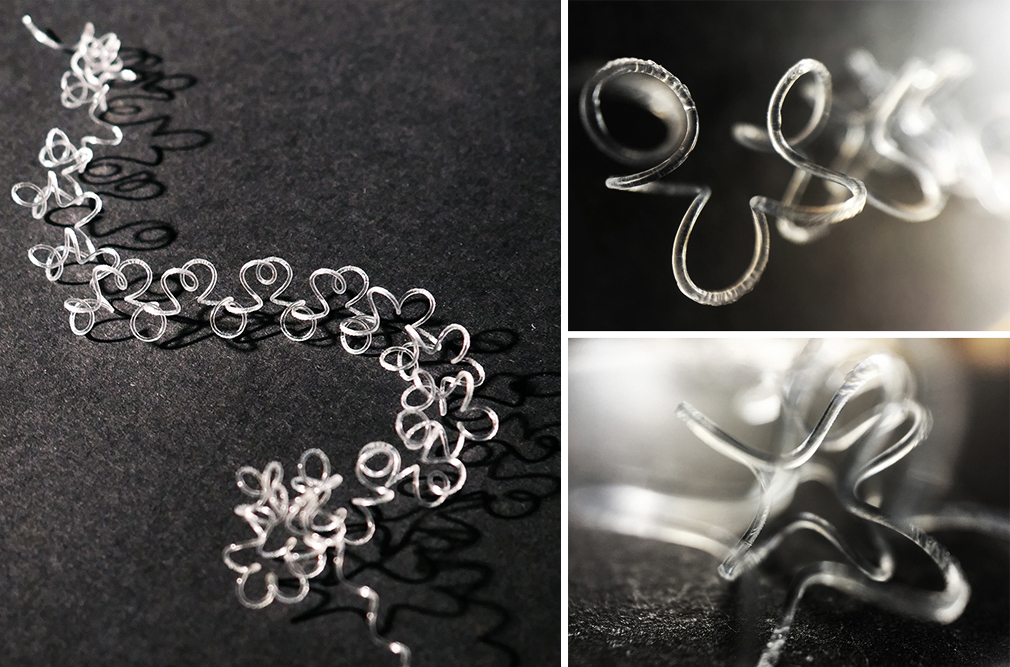 [ ACTIVATION: HOT AIR ]
[ ACTIVATION: HOT AIR ]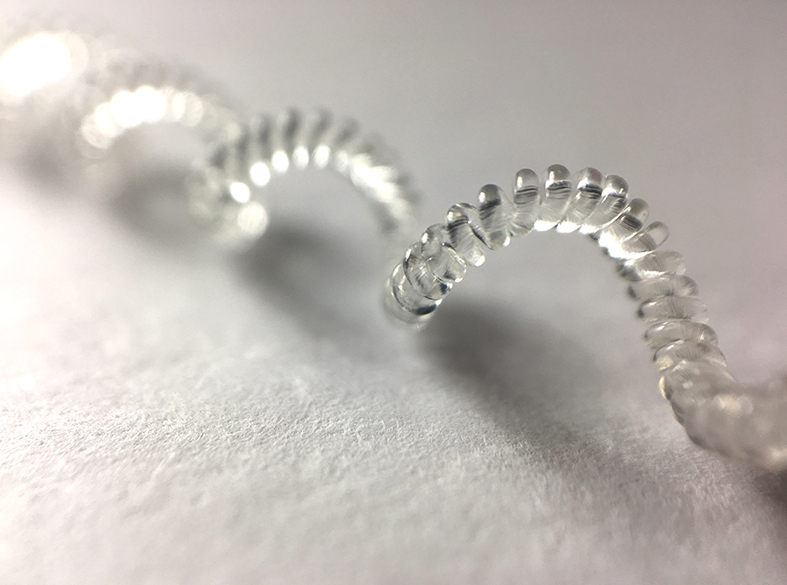 [ ACTIVATION: HOT PLATE ]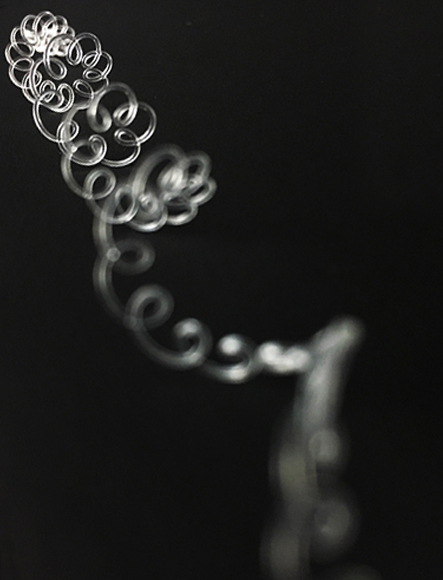 [ ACTIVATION: HOT AIR ]
Textile-inspired assemblies
[ ACTIVATION: HOT AIR ]
[ ACTIVATION: HOT PLATE ]
[ ACTIVATION: HOT PLATE ]
---
RELATED PUBLICATIONS
Piñeyro, A. (2022). Fostering creative opportunities by embracing the accidental within practices of making. In: W. Ross & S. Copeland (eds.) The Art of Serendipity. Palgrave Macmillan. https://doi.org/10.1007/978-3-030-84478-3_6.

Piñeyro, A. (2020). Animating matter: A material-led exploration into the kinetic potential of nylon monofilament. PhD thesis, Royal College of Art, London. https://researchonline.rca.ac.uk/4320/.

Piñeyro, A. (2019). Kinetic morphologies. Revealing opportunity from mistake. The Design Journal, 22:sup1, pp.1871-1882. https://doi.org/10.1080/14606925.2019.1595027.

Piñeyro, A. (2019). Animating matter. Revealing kinetic capability in nylon monofilament through morphological transformation. In: D. Dumitrescu, L. Hallnäs, M. Hermansson, A. Norlund Andersson & C. Thornquist (eds.) ArcInTexETN, Borås: The University of Borås, Sweden pp.111-143.
---
---

FUNDING
Horizon 2020 research and innovation programme of the European Union, under the Marie Sklodowska-Curie grant agreement No. 642328.